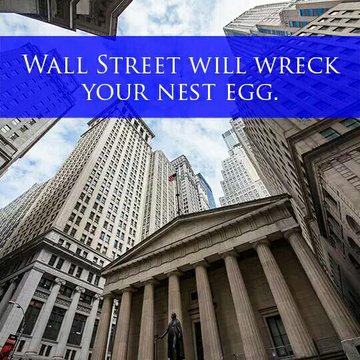 How To Become Your Own Financial Institution
"Be Your Own Bank"
Why are we not worried about the stock market correction?
Our plan is guaranteed. 100% Risk Free!
---
What if we could show you a way to increase your cash flow, grow your money 100% risk free while giving you total access to it whenever you need it and lower the interest and taxes you pay?
 Q.  Would you be interested in that?
What if instead of putting your money in a bank savings account earning only .3% +- annually you could earn 5% risk free and reduce your interest and taxes?
The wealthy have used this system for years, why not you?
"What if you could recover the interest expenses you pay to finance cars or other major purchases? What if you could recover the "lost fortune" on the money you needlessly give to financial institutions? What if you could do this on a tax-free basis?
If your is answer yes, then would you? You can, if you learn how to start your very own bank…"

---
---
Concept…

We teach and enable individuals, families and businesses to create a personalized financing program to re-capture some of the interest normally paid to financial institutions, and operate similarly to the federally chartered bank down the street. We show you how to have freedom from the traditional method of financing.  You will no longer be dependent on banking institutions or finance providers for funds. By becoming your own bank, you are able to keep the loan interest as well as the principal–you take back control over the loan stipulations and, ultimately, you transform your debts into assets.
Where can you find a vehicle that

minimizes the cost

of wealth transactions by allowing you free

accessibility and use of your hard earned money without worrying about the burdens associated with taxes, fees, penalties, or market risk?

Where can you find a vehicle that allows your hard earned money to grow tax-deferred, with the opportunity of being withdrawn tax-free, offers guaranteed rates of return, tax-free dividends, a great level of asset protection, essentially limitless contributions.
Plans
Your Infinite Banking Plan
Working with your agent, together you will explore all available avenues to find a way to fund your bank. In most cases, working together you will find ways to fund your bank with little or no change to your budget.  This means you don't have to scrimp and pinch every penny living on beans and franks.  Normally you don't have to alter your lifestyle at all, just change how you handle your money.
Benefits…
Having tax-free income at retirement
Pay off all of your debt, including your mortgage
Finance your automobiles and large expenses
Save for college expenses
Teach your children how to manage and grow their money
Capturing the interest you are currently losing
Finance Family Vacations
Pay for Medical and Dental Expenditures
Increased Investments Return
Create a Family Legacy that Passes to Each New Generation
Reduce Tax Liability on Capital Investments
---